Let's get your new plugin installed and ready to use!
Step 1:
Once you have downloaded the file from CodeCanyon you will need to unzip that file. Once you unzip the main file, you will see (4) files. (see below)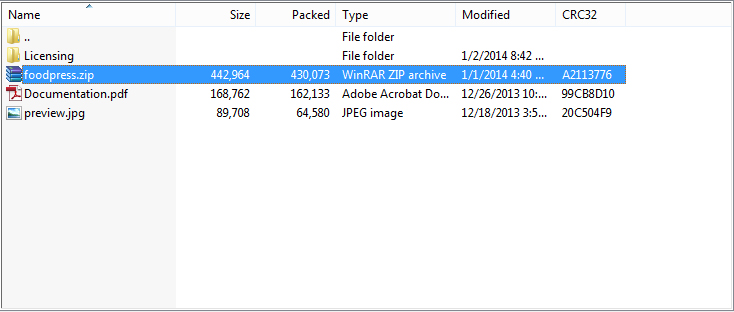 Step 2:
You now have two options to install the plugin, let's go into depth below the typical WordPress Dashboard plugin installation, then we can briefly cover the FTP method for the more savvy users at the very bottom of this article.
Step 3:
Inside your WordPress Dashboard, click on 'Plugins > Add New' from the left navigation menu.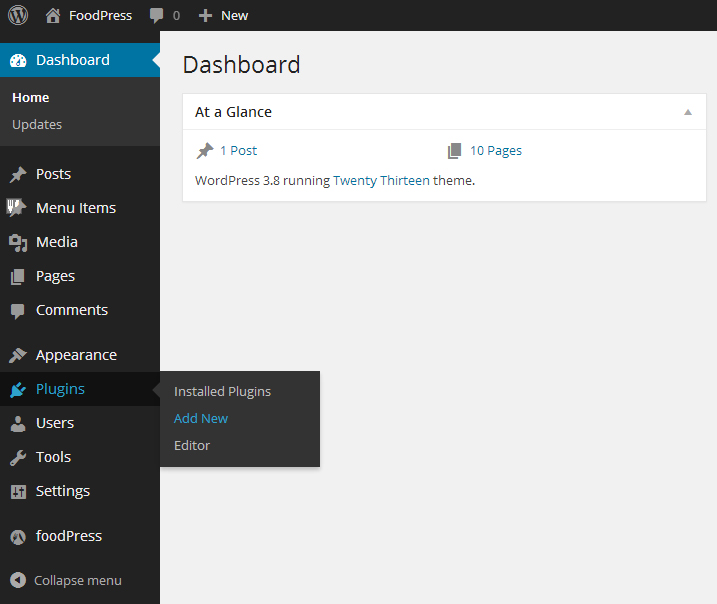 Step 4:
Select the 'Upload' link and then click on the 'Choose File' and then select the zip file named 'foodpress.zip' from the (4) files that you saw in Step 1 above. Now click onthe 'Install Now' button and let WordPress do it's thing.
Step 5:
Once you successfully install the plugin, you will be prompted with the beautiful foodPress welcome screen.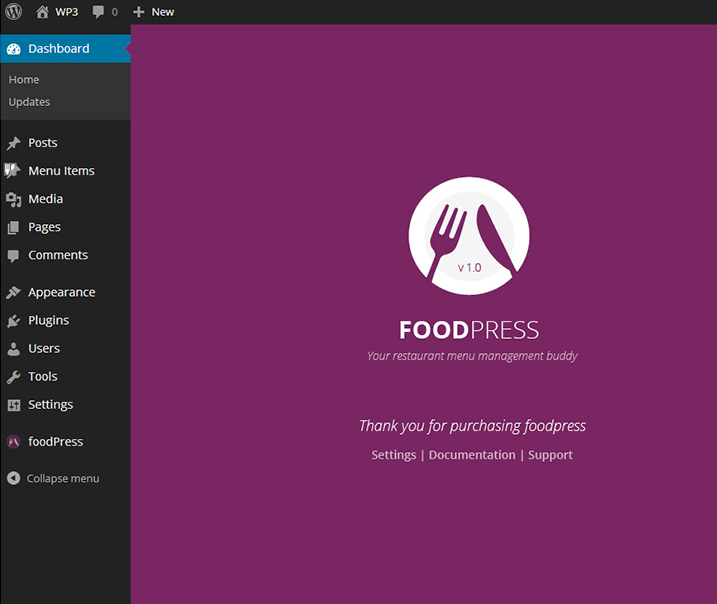 Step 6:
Well, that's it for installing the plugin through the WordPress Dashboard, you can click on the 'Settings' link to go through the settings for your new foodPress Restaurant Menu Manager.
Installing foodPress via FTP method:
Install your foodPress plugin using your FTP client by simply unzipping the 'foodpress.zip' file, and simply place the entire folder into your FTP plugins directory.
PLEASE NOTE: the contents need to be placed into a folder called 'foodpress', do not just throw the individual plugin contents into the plugin directory or your plugin directory will now be a mess. Your plugin directory should look like the below screenshot or similar, depending on other plugin folders you may have already installed.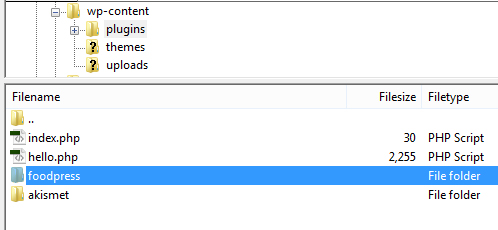 After adding this folder to your FTP plugins directory, you can visit your WordPress Dashboard, and you will now see the foodPress menu item on the left side navigation. If you do not see it yet, refresh your browser and it should appear.
If at any time you need help installing the plugin, please feel free to contact our support by visiting our foodPress support forum located at http://myfoodpress.com/support/